Posted by iCoverLover on Nov 06, 2017
Is the iPhone X already in your hands? Yes, you've got it? What would be then the best protective cover for your brand new iPhone X?
iPhone X possesses amazing features in itself. With the new technologies that have integrated into its systems, you just couldn't even attempt to wonder why the demand has been off the charts. The wireless charging, all glass feature, the OLED display, the all-screen display, and, of course, the all-new Face ID. And there has to be a lot more new features on this one compared to the previous flagships of the Apple Company. And that's great! These features and the awesome potential of the iPhone X brings you the best smartphone experience.
We have gathered few new stylish covers which you can use to protect your new iPhone X: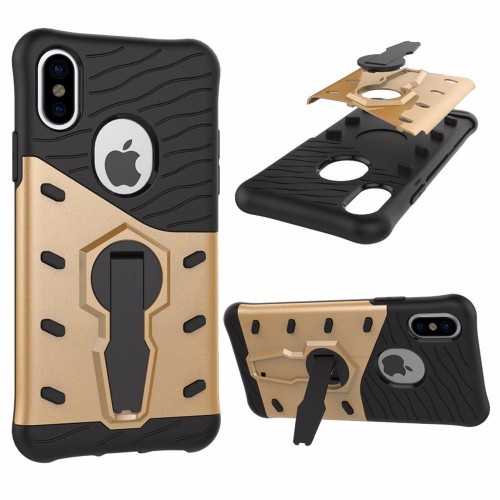 Gold Hybrid Armor iPhone X Case has the capacity to protect your iPhone X and give you convenience at the same time. This armor case has protective layers that are bound to filter the shocks from your smartphone after an accidental fall or slip. Since these incidences are almost always inevitable, you should better be prepared for it by having this cover.
And, when it comes to convenience, this is also your best choice. It supports a unique 360-degree spin style which gives you the comfort of watching media on your phone at any convenient angle. As it supports a 360-degree spin, you can literally just rotate the stand and find your comfortable viewing position.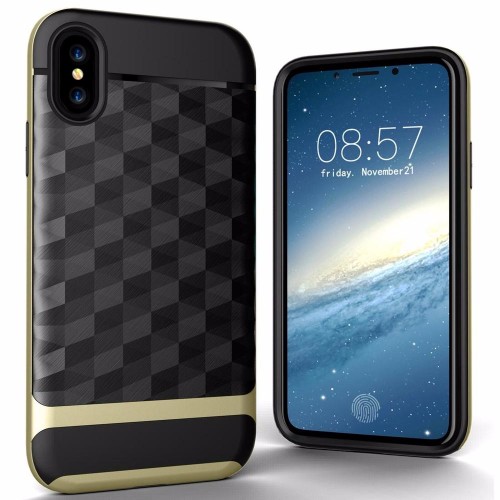 A phone case with awesome design, protective, and has an impressive tactile feeling. What more could you ask for? You can enjoy every little thing of your smartphone without having to worry about the dirt accumulation or an accidental slip. This protective armor cover can definitely help you to protect your new iPhone X. Durability and reliability of protection are guaranteed with this phone cover.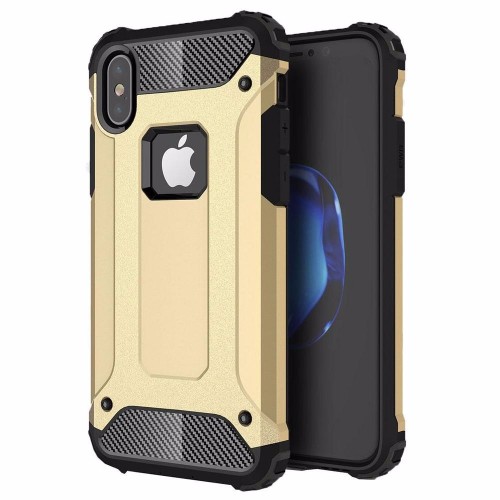 Are you ready to have some great adventures with your new iPhone X? With the special features and specs that have been integrated into the phone, you definitely should have plans already as to how you can make the most of it. But, of course, without compromising protection.
And thus, the Gold Tough Armor iPhone X Case is for you. It has an awesome exterior that has been extremely popular nowadays to give you the fashion style plus the needed protection, all at the same time. This is also made of TPU and PC materials so you can just make sure that you can have an awesome experience for your new smartphone. And of course, it is definitely lightweight so it does not add up to the weight of the iPhone X itself. As a result, a more convenient use of your smartphone at that.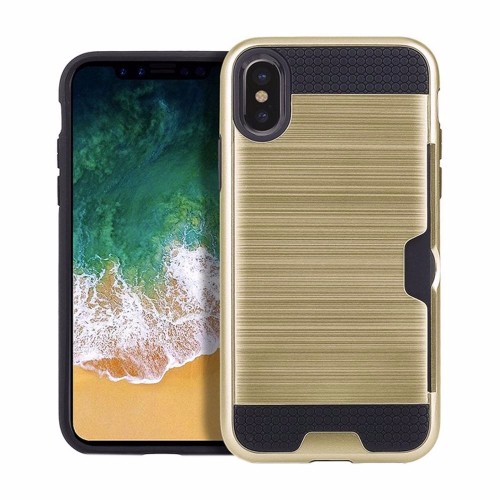 Are you looking for a protective armor cover that offers you more than protection? Then you might want this Gold Brush Armor Card Slot iPhone X Case for your newest smartphone. As it is an armor phone cover, you can just make sure that it can give your smartphone a wholesome protection without even ruining your fashion style. And, hey, there's a plus in this one too. Aside from being stylish and being a really protective armor case, this has a card slot too which gives you the ease of bringing your favourite and most used credit card wherever you go. Just imagine, a phone cover where you can keep your iPhone X safe and which can also store your credit card, that's pure awesome and efficient.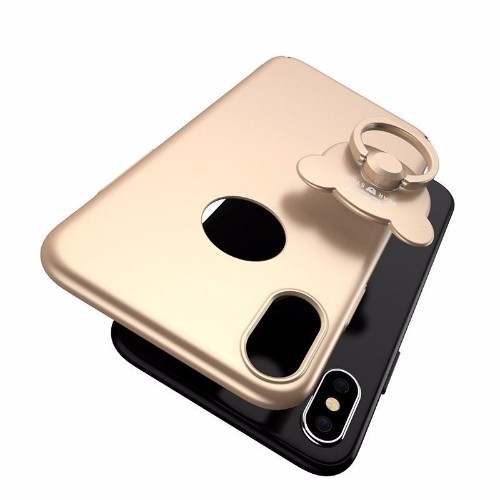 You might also be looking for an armor case that protects effectively and can serve as your fashion highlight too. This way, your outfit of the day can never be bland. With Gold Solid Metal Paint iPhone X Case, you can see that it offers awesome protection for your smartphone plus it also does not compromise fashion. It has been made with precise cuts just to make sure that it is perfect for the camera and ports, and yes it does not block the way. It also has an awesome way of showing off the logo of your apple iPhone X. But the fun does not end there. This phone cover also has a bear ring holder that not only becomes the highlight of your fashionable style but can also be used to prevent accidental slips and drops. You can also use this one for viewing media on your phone at a totally convenient angle.
These are the suggestions for the best and fashionable protective armor covers for iPhone X. It might be hard for you to decide as to which of these that you are going to have. But, why do you have to take the trouble in that when you can actually have them all and more? It would be awesome if your iPhone X has a closet of its own which is composed of protective phone covers for everyday style, just like you do.
Well, the important thing is, you choose what you think is the best phone cover for your smartphone. You should also consider the convenience that it offers. As you know, you cannot compromise protection for fashion and vice versa. Get your protective armor cover for iPhone X and have a fun and exciting adventure for your newest smartphone.
Share