Posted by iCoverLover on Nov 27, 2020
Foldable smartphones are an amazing piece of engineering technology, but are they the future? Samsung has already done changes to its smartphone Galaxy Fold after there were some troubles with the first model that was announced on February 2019 and later in April 2019.
But the problems also continue with the model that was released on September 2019 and TechCrunch hardware editor Brian Heater already reported that the screen had shown signs of damage on the first day of use. Can we really expect that Samsung or any other phone company can make a foldable smartphone that will actually work flawlessly?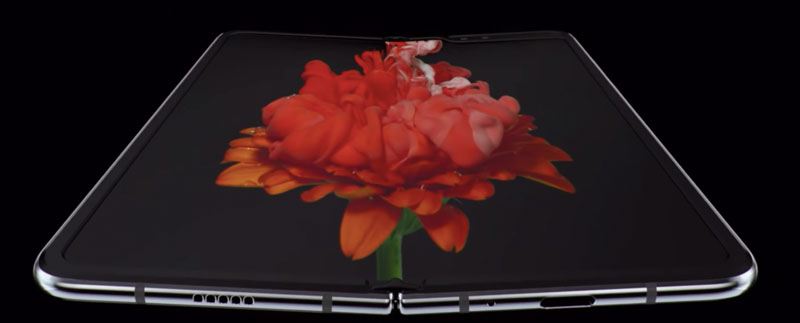 Source: Galaxy Fold: Official Introduction (YouTube)
The improved Fold was first released in Korea on September 6 and now it is also available in the US for $2930. The Fold comes in a simple black box, with exact instructions for use which includes warnings to avoid pressing hard on the display, using sharp objects and more. Since the smartphone companies are now mostly making water or/and dust resistant phones, we were surprised that the Fold is none of that.
It is a very fragile phone since its screen can be scratched by something as simple as a fingernail. Another thing that you have to be careful about are credit cards for the reason that they can provoke the Fold's magnets, which hold the phone closed, to disrupt.
The big screen we like and need.
The Galaxy Fold's large display is brilliant for reading, watching videos and photos. Its amazing 117,9 mm display is great for multitasking because you can split the screen and use more apps at the same time. The positive side of the big display is that the keyboard divides in half which makes typing more comfortable but at the same time it takes a lot of screen space, mainly when you are multitasking which ruins all the benefit of having a large viewing area.
With the bigger screen also comes bigger weight. Many users said that after some time of holding the Fold in their hands it became very heavy which is no surprise since it weighs 263 grams.
There is also usable exterior display. This 62,8 mm outer screen is good for viewing and less good for typing or doing any other major tasks. Nonetheless, the exterior screen is very useful because you can start doing something on a small display and continue your work on the inner larger screen, once you open the Fold. It also has Gorilla Glass, unlike the inner display that is made of polymer plastic which can break under pressure and can sustain damage if your fingernail hits it wrong.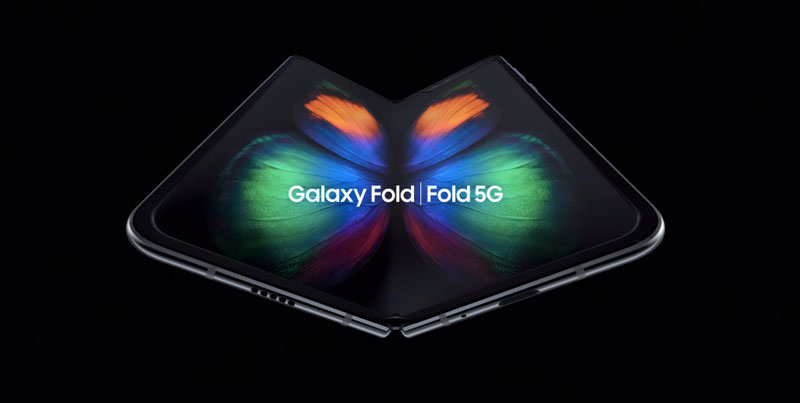 Source: Galaxy Fold: Official Introduction (YouTube)
Things that make it cheap.
A foldable phone is actually two phones put together and it has two batteries. Battery life is shorter than it should be, despite having two cells. There is also a crease that runs down the middle of the plastic screen, but some say that it can be seen only when the screen is all black or all white.
The Fold's camera notch takes up a lot of space in the right part of the interior display. It doesn't look like it is part of the device. The camera has both 10- and 8-megapixel front-facing lenses when you unfold the device and a one 10-megapixel selfie shot if you use it closed.
With all the technology it is supposed to have, they don't have a face unlock. Instead of that, there is a fingerprint reader that is situated on the right side of the bottom part of the stack when the Fold is closed. The phone is too expensive and too fragile to have an enormous notch, a plasticky bazel and the almost useless exterior display.
As opposed to other Samsung phones, the Galaxy Fold has very few options when it comes to colour and storage capacity. It comes in Space Silver and Cosmos Black colour with 512GB storage and 12GB RAM. For the price, we should have more options to choose from.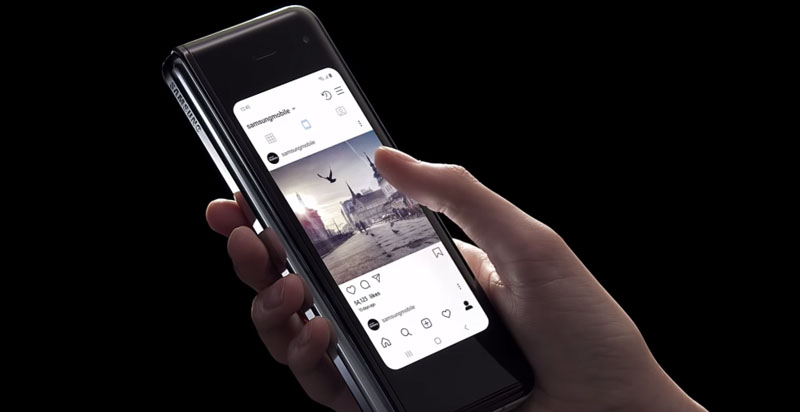 Source: Galaxy Fold: Official Introduction (YouTube)
Who is going to win the foldable phone race?
Samsung Galaxy Fold is a unique phone which sets the pace for what the future of phones could become. Since the first announcement the company hit many setbacks, but they are committed to the foldable category. Maybe there is a reason that the company had suffered many ups and downs.
Now they can learn and take this experience as a way to make a better and possibly a completely different look for future foldable devices. Samsung has set good guidelines for other companies to get started on folding phones and perhaps one day also tablets.
Microsoft has already made a design for a new foldable phone introducing a double-screen phone. It is called Surface Duo and we won't see it at least for a year. So here is a question to Samsung: Why make a folding screen, when you can just have two displays?
More foldable phones are coming and we advise you to wait with the purchase.
Watch the CNET's Galaxy Fold review:
Shop some of our Samsung Galaxy cases best sellers:
Share