Posted by iCoverLover on Mar 13, 2017
Everyone feels a little bit Irish during the month of March. Regardless of a person's actual heritage, there are elaborate celebrations for St. Patrick's Day in various parts of the world. From the festive Emerald Ball in Auckland, to the lively street festivals in Argentina ,Singapore River turns green and the Masquerade parade in Montserrat in the Caribbeans, countries all over the world have their unique way of celebrating St. Patrick's Day! Outside of Ireland, Australia celebrates March 17 with festive parades.
According to The Gathering Ireland Report 2013, the global Irish diaspora has reached more than 70 million people. These Irish citizens left their country and settled in various parts of the world. Australia has a massive number of Irish residents. As a matter of fact, the country is dubbed to be the third most preferred destination for Irish immigrants. The United States and UK do have huge population of Irish citizens as well. Irish residents in Australia have developed a strong sense of community. You will see various markets, restaurants and pubs in Sydney which are offering Irish commodities, cuisine and entertainment. They even have their own newspaper around Sydney known as the Irish Echo. It was cited by the editor in chief of Irish Echo by the name of Luke O'Neill in his 2013 interview by the Guardian, that Ireland has the third biggest provider of 457 applicants for a VISA in Australia. They often apply for temporary VISA, extended work visa and even full residency. Thus, it is not a surprise why St.Patrick 's Day is celebrated enthusiastically by Aussies.
March 17 is a global celebration for Saint Patrick's Day. This is a holiday which gives commemoration to the patron saint of Ireland who once lived around 400 A.D. In case you did not know, he said to have driven the snakes out of Ireland. St. Patrick ministered Christianity to Ireland during the 5th Century. However, for the rest of the world, St.Patrick's Day is the opportunity to celebrate Irish culture and heritage.
Sydney Australia holds the biggest Saint Patrick's Day Parade in the southern hemisphere with the only celebration outside Ireland which is sponsored by the Irish government. Come and celebrate the annual Green Gathering at the Prince Alfred Park which features family activities, local artisans and crafts, Celtic dancers and Irish marching bands. This shall be on March 19, 2017. The Irish government orchestrated this event to motivate the members of the diaspora to embrace and revisit their affinity to Ireland. Perhaps, Ireland wants their citizens who immigrated to other countries to celebrate their Irish heritage related to music, arts, sports and culture. The Sydney Opera House illuminates in green for St. Patrick's Day. The themed parade which was first celebrated way back 200 years ago, is known to be the largest parade in the world.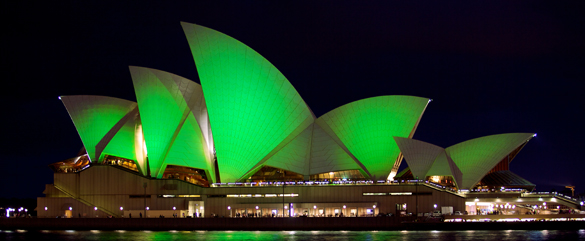 Gear up and Dress Up for the Green Gathering on March 17!
You can plan a weekend adventure with your friends and family for St. Patrick's Day. It would be fun to bring the kids along with their fun costumes for this Irish event. Before you leave to hit the streets for the parade, it is best that you get a high quality and durable cover for your smartphone or tablet.
Whether you are using an iPhone, iPad or a Samsung phone there are a lot of designs to choose from. You can certainly enjoy and capture moments knowing that you have bought the best phone case for your phone's protection. You will never worry about lost photographs or videos from your smart phone. All you have to do is enjoy and discover the Irish Pride.
May the Irish hills caress you.
May her lakes and rivers bless you.
May the luck of the Irish enfold you.
May the blessings of Saint Patrick behold you.
May the leprechauns be near you,
To spread luck along your way.
And may all the Irish angels,
Smile upon you St. Patrick's Day.
Erin go bragh! Ireland forever!
Paint the town green and celebrate Saint Patrick's Day!
Share