Posted by iCoverLover on Jun 04, 2018
For years, the mobile phone industry has been full of voices at one time or another of folding smartphones. This is one of those points of discussion that keep coming up from time to time, but 2018 could be the year this technology finally comes to light.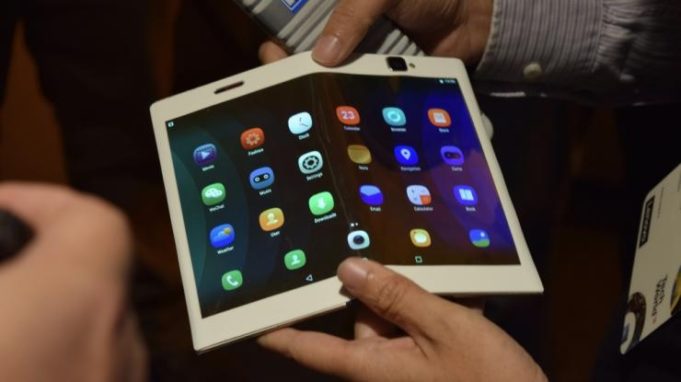 Considering that the mobile sector is moving at an accelerated pace, we expect the main trends to differ every year. For example, 2017 marked the beginning of the rigorous war against bezels, which led to almost bizarre smartphones. It is also the year in which the dual camera configurations, both in the front and in the rear, have scaled the graphics.
At the beginning of 2018, we noticed another feature that was gaining momentum, that is, the under-display fingerprint scanners. In addition to this, we could also see foldable smartphones in the future.
---

So, you mean to say that foldable smartphones are really possible? YES!
Along with these advanced features, the demand for larger screens has emerged to provide a richer user experience. The screens of mobile phones have increased in size to the point where they can now consume almost the entire display area of a telephone. To further increase the size of the screens, an increase in the size of the phones would be necessary. This is not desirable, since users want their mobile phone to fit comfortably in the hand or in the pocket of a shirt or trousers.
As a result, dual-screen devices are becoming more popular. With a dual-screen device, the mobile phone or tablet can include an open and extended position in which both screens are aligned so that the user perceives the existence of a single integrated screen. In a closed and condensed position, both screens are face-to-face to protect the screens. In a fully open position, the double screens can be positioned one behind the other so that the user has to turn the device to see the opposite screen.
---
Wait, is it really true that Samsung is currently working on a foldable smartphone? Well....
Samsung has been working on folding screens for several years, and the South Korean giant could finally be ready to show off its first completely flexible smartphone, in fact, Samsung is said to be already working on it, and they're probably gonna be calling it as the Samsung Galaxy X.
Although, Samsung didn't specifically mention that it would be named as the Galaxy X, Samsung just seemed to imply the existence of the folding phone that'll be emerging soon in the coming years. In a press release on their latest earnings report, the South Korean tech-giant said: "As for the mobile sector, Samsung will continue its efforts to differentiate its smartphones by adopting cutting-edge technologies, such as foldable OLED displays. "
The statement caused a stir in the public, as it was interpreted as a confirmation that Samsung is going to produce the long-awaited Galaxy X. It is worth noting that the company has already filed patents in 2016 and 2017 for a flexible screen-folding phone, adding weight to speculation.
---

Well, if it's really possible to have this phone in the near future, what would it look like?

According to the Korean news site The Bell, the final design for the Galaxy X folding smartphone has been tentatively confirmed. In a surprise for absolutely no one, the Galaxy X will apparently use OLED panels in its construction, but what is notable is their number.
Also, According to The Bell report, the Galaxy X will have three 3.5-inch OLED panels: two that form a huge 7-inch screen when installed and one on the back of the device that lets you use the phone when it's folded.

Frameless screens, like those used in the Galaxy S8, can be used to create a perfect appearance of a single screen. A recent patent has confirmed that Samsung is experimenting with an even greater number of telephones without a frame, possibly with a completely mask-free faceplate with a fingerprint sensor below the screen. Come to think of it, if the Galaxy X was to pull off someday sooner, it could usher in a new era of smartphone design.
---
Now, when will we actually see Samsung's first-ever foldable Smartphone?
According to Ron Mertens of Industry News and the OLED-Info consultant, "mass production is scheduled for November 2018, so the actual device will be presented in December 2018 or a little later". Professor Roel Vertegaal, developer of the ReFlex flexible phone prototype in the Human Media laboratory of Queen's University in Canada, also said: "Samsung would have put a flexible phone in 2019, so it could very well happen [this year]. that would have been delayed a bit because of his problems with the note ... for what could be 2020. Another thing I realized is that first they'll turn off a folding phone and then a second flexible phone. "

To conclude, the next Samsung Galaxy X folding phone should start production this year and be released in limited numbers in 2019 or 2020.
---
So, is Samsung the only company to produce foldable phones in the future?

Well, Apple is working on a new radical iPhone with a folding screen that works like a tablet. The company might reveal it soon, but for now it's only a speculated idea from news reports.
This is what emerges from a report by Bank of America Merrill Lynch, according to which several Apple suppliers in Asia have confirmed that they are working on a product of this type.
A folding iPhone could even arrive in 2020, analysts said. So, it's always a good time to think about the possibility of having foldable iPhones in the future.
---
Well, talking about smartphones and everything, it's always the right time to maximize your comfort and style when it comes to the safety of your smartphone, always make sure to add these protective accessories to give your smartphone that total-amount of protection,style and convenience, all day long and whenever you're on the go.
---
Share