Posted by iCoverLover on Nov 27, 2020
It's official, very soon the new versions of Samsung smartphones are going to be available. A cheaper version of the Galaxy Note10 luxury model, the S10 Lite and Note 10 Lite are coming to market. Though the price remains unknown for now, they are considered as mid-range business phones. These two new Lite phones bring a good heap of specs that make them appealing to the users. Despite the fact that Samsung didn't reveal its release dates, we expect them to be on the market in the first quarter of the year.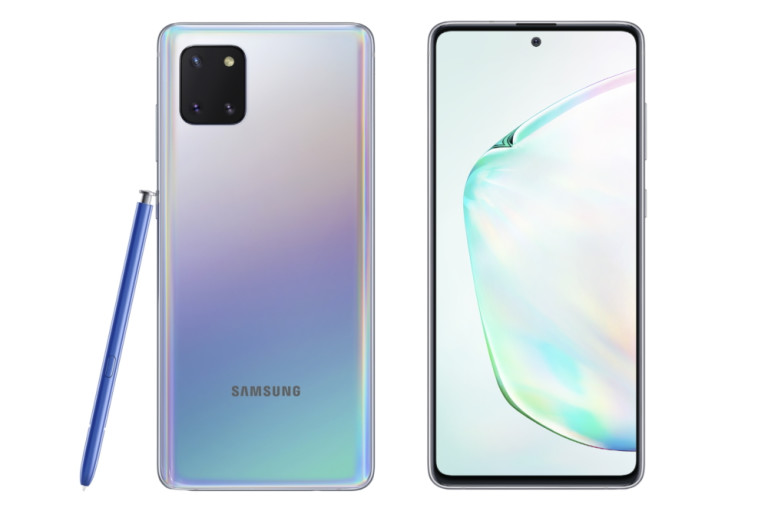 Samsung Galaxy Note 10 Lite (Source: Samsung)
The latest rumours about the Samsung Galaxy Note 10 Lite indicates that it will come with a 17cm Full HD AMOLED display. A hole-punch camera in the front will reach 32MP and it'll have three back cameras - 12MP wide-angle lens (f/1.7) with regular OIS, a 12MP ultra-wide-angle lens (f/2.2), and a 12MP telephoto lens (f/2.4) with OIS.
Note 10 Lite measures 76.1 x 163.7 x 8.7mm and weighs 199g, the battery has a capacity of a 4,500mAh. Based on Bluetooth technology capabilities and low power consumption, the S Pen is attached to the body of the Note 10 Lite smartphone and it is compatible with all Note phones. Unlike S10 Lite, the Note 10 Lite comes with a 3.5mm headphone jack, the feature we have been clamouring for.
It will be powered with the Exynos 9810 chipset, Android 10 out of the box OS and fast charging system. As it goes for choosing, there will be available 'Aura Glow', Black, and Red versions. Also, you get to choose between 6GB or 8GB RAM, with 128GB of internal storage.


Samsung Galaxy S10 Lite (Source: Samsung)
Samsung Galaxy S10 Lite comes in the same size as Note 10 Lite, the 17 cm Super AMOLED Plus Infinity-O Display and 1080p resolution. As on the Note 10, the 32MP front camera is top centre aligned. Samsung's engineers are expected to equip the smartphone with three rear cameras, the 48MP wide-angle lens with an f/2.0 aperture and Super Steady OIS, the 12MP ultra-wide camera with an f/2.2 aperture, and a 5MP macro f/2.4 lens for close-up photography.
With its 75.6 x 162.5 x 8.1mm and it weighs 186g it isn't so small and light as the name may suggest. It will be supported by the Qualcomm's high-end Snapdragon 855 chip, Android 10 out of the box OS and 4,500mAh battery, that surpasses both the Galaxy S10 and Note 10 series, which is welcome news.
Just like Note 10 Lite, it comes with 128GB of internal storage and a choice of 6GB or 8GB RAM. Samsung Galaxy S10 Lite will be available in Prism White, Prism Black, and Prism Blue colours.
From the huge screen size to the three rear cameras, in-display fingerprint sensors and a 4,500-mAh battery, the Note 10 Lite and S10 Lite have a lot of identical features. These smartphones assimilate outstanding premium details for users who want to experience advanced technology and cutting-edge features.
The CES 2020 is here and presumably, we will get more information on the prices of the S10 Lite and Note 10 Lite. And soon after that get these smartphones in our hands.
Smartphones' standout specs:
Samsung Galaxy S10 Lite
Display: 17cm Full HD+ Super AMOLED Plus Infinity-O Display
Processor: Octa Core (2.8GHz + 2.4GHz + 1.7GHz)
System Memory: 6GB / 8 GB
Internal Memory: 128 GB
Rear Camera: 48 MP (wide) + 12 MP (ultrawide) + 5 MP depth sensor
Front Camera: 32 MP
Battery: 4.500 mAh, super fast charging
Body: 162,5 x 75,6 x 8,1 mm (186g)
Samsung Galaxy Note 10 Lite
Display: 17cm Full HD+ Super AMOLED Infinity-O Display
Processor: Octa Core (Quad 2.7GHz + Qud 1.7GHz)
System Memory: 6GB / 8 GB
Internal Memory: 128 GB
Rear Camera: 12 MP (wide) + 12 MP (ultrawide) + 12 MP Telephoto
Front Camera: 32 MP
Battery: 4.500 mAh, super fast charging
Body: 163,7 x 76,1 x 8,7 mm (199g)
Watch a hands on video by Android Authority:

If you are looking for a phone case for your Samsung, Apple or Google smartphone you should have a look at some of our favourites:
Share