Posted by iCoverLover on Dec 02, 2017
We compare the latest tablets from the two giants, the latest iPad 2017 from Apple, and the all-new Samsung Galaxy Tab A 8.0 from Samsung, and they're both currently one of the hottest trends in the tablet market right now! Let's take a tour of both of their latest specs and upgrades that make them faster, cooler and more stylish than their previous versions:
Let's take a look first at the latest
iPad 2017 (iPad 9.7-inch)
The latest iPad 2017 from Apple is currently a big hit in the gadget industry of today. It is said to be the latest hit to have ever compete with the Android market in today's gadget enterprise. It's the newest iPad has shown quite a lot of improvements since its predecessor, the 2014's iPad Air 2.
With Apple taking a huge leap to achieve its peak in creating a faster, much precise and more innovative iPad, they've designed this newer version of the iPad with a whole new set of upgrades and improvements that is fit for its price.
Here are the latest specs of the newest iPad 2017
The iPad 2017 features a 9.7-inch screen, that runs on the previous version of iOS 10 operating system, which is currently upgradeable to iOS 11. It's much faster than the previous iPad Air 2 since it's running on an A9 chip, the same chip that is featured for the iPhone 6s.
The total amount of screen display for this newer version of iPad is 2,048 x 1,536 pixels, with an approximate total of 264 pixels-per-inch. That means you'll be getting a lot of better graphics resolution from this version which is similar to the iPad Pro.
There's a lot of improvements from the camera, for the primary camera has 8-megapixels resolution, with an aperture of f/2.4, while the face time camera offers an average of 1.2 megapixels HD, with an aperture of f/2.2.
This model supports Bluetooth 4.2 connections, and as for the compatibility of the LTE version, it has added benefits such as Wi-Fi calling.
As for the battery, you'll be happy to hear that Apple greatly improved its battery life up to 10 hours, which will make your tasks a lot more profitable, from surfing the web while using Wi-Fi, watching videos, or listening to music.
And oh, the internal base storage for this device is 32GB, although there's also a 128GB option too.
Now, let's talk about the all new
Samsung Galaxy Tab A 8.0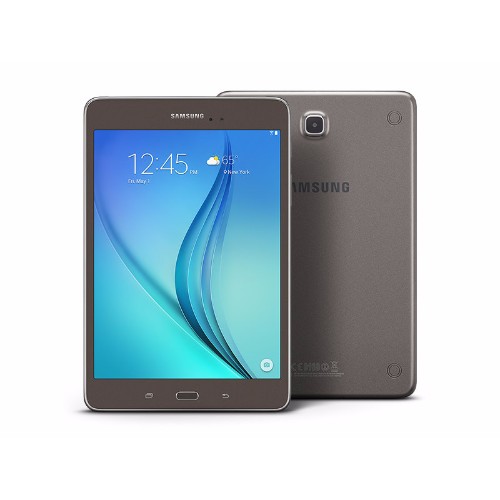 The latest installation of the previous tablets from Samsung is finally out, the Samsung Galaxy Tab A 8.0, which features an 8 – inch screen display, which showcases a price as modest as its specs. It's one of the leading pioneers for Tablets that was created to maximize the user's feature utilization for Android.
Featured globally for its high-quality specs that are built into this device. It's simple, yet it has a slick design, perfect for work and for any occasion.
Built to adjust to the user's compatibility, the designers from Samsung adjusted its total maximized utilization options, to further open its spectrum to all users. Making this device more powerful, innovative and precisely operational. Also, the overall capacity of this product is delivered by its fully built-in specs which are upgraded to a greater capacity, which makes this device faster and fully function-wise.
Here are some of the latest specs and updates for the Samsung Galaxy Tab A 8.0
Running the one of the latest version of Android 7.1 (Nougat), also features Google's Operating System, the Tab A features a very user-friendly interface, TouchWiz.
Offers tons of software perks, for applications (found in Google store) and another set of compatibilities for 3rd party devices. This makes the tablet more flexible when it comes to its digital-diversity, which is very operational for other compatible devices.
It has a smooth back panel which is completely comfortable against your fingertips, and its rounded edges that make it easier to grip.
Dimensions come in at 212.1 x 124.1 x 8.9 mm (8.35 x 4.89 x 0.35 in) and weighs 364 g (12.84 oz). Which makes it quite optional for storage and handiness.
On the right edge, you can find a power button with a volume rocker and it comes with a microSD card slot (up to 256 GB) as well, which makes it fully functional when it comes to storing data.
It comes with Microsoft Office apps, including Word, Excel, and Powerpoint. It's a very nice addition, especially for students and those interested in a portable workstation for faster work progress.
The Galaxy Tab A 8.0 also features a multi-window function, that can handle two running apps at once. Meaning it can take your work to a whole new level of function for it diversely operates multiple tasks at once, making work easier and more convenient.
The greatest highlight of this device is its high battery-life, which can last up to approximately 8 hours if greatly used for video streaming and web surfing. Meaning the battery isn't just greatly amplified, it's progressively programmed to last up to a couple of hours when used for entertainment.
Lastly, this galaxy tab features the quad-core Qualcomm Snapdragon 425 processor clocked at 1.4 GHz and backed by the Adreno 308 GPU and 2 GB of RAM. Which mainly defines why this Galaxy Tab is progressively powerful aside from its minimalist design and overall build.
Overall, the performance of the device greatly advances through the digital market's criteria for performance, instead of its maximum design, making it all in all, powerful and systematic.
Can't get enough of the fashionable and convenient covers? You might want to consider having these as well.
Share