Posted by iCoverLover on May 11, 2016
The latest iPhone has glass stretching from edge to edge, and despite fantastic advances in smartphone technology over the last decade, the iPhone's glass screen remains fragile. You're bound to drop your phone sooner or later and if that happens on concrete, unless you have an ultra protective case, you're going to shatter your screen.
Apple have made official in-house repairs a little more accessible than they used to be, but replacing the glass screen of an iPhone 6, 6S or 6S plus is still going to cost you around $200. Even if you paid extra for AppleCare+ when you purchased your device, the price of repairing an accidental screen breakage is still over $100. And if you've accidentally broken your screen twice before, AppleCare won't subsidize your third repair at all – even if your phone is still in warranty!
On that note, we're proud to announce a new range of services here at icoverlover: We can now replace glass screens on iPhone 4/4S, 5/5S, 6/6S and 6S Plus. We can even repair or replace your iPhone LCD screen.
Our Apple device repairs are of comparable quality to official in-house Apple repairs, with three main benefits:
Inexpensive by comparison.

A much shorter wait until you get your phone back.

You don't have to find an Apple store and wait for an appointment at the Genius Bar.
If your nearest Apple store is too far away, or if you can't book a timely appointment, then posting your phone away for repairs means you'll be without your phone for at least five days. If you rely on your phone for business, that's a long time! Our service is much quicker, and in some cases we may even be able to repair it in the same day. Come in or give us a call for a quote as soon as you can, and we'll work out our best price depending on the type of damage.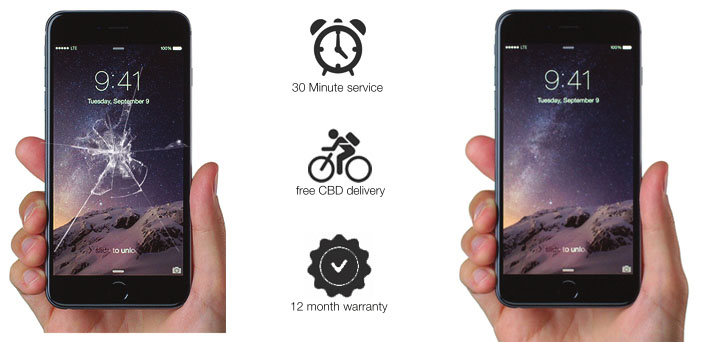 We sell iPhone screen replacement parts
If you're confident with iPhone repairs and micro soldering, you may prefer to buy replacement parts and repair kits from us. We'll be glad to sell you replacement glass screens, LCD screens and repair kits for any of the Australian market editions of the iPhone 4, 5 or 6. Our replacement parts and kits are superior to those you might buy online – the tools won't break half way through the repair, and you won't end up with a screen meant for a slightly different overseas model of your phone. We can even advise you whether you'll need to replace just your glass or your LCD screen as well.
Do keep in mind that replacing the glass alone, while significantly cheaper in terms of parts cost, is also much trickier. If you make even the smallest misstep when trying to replace the glass, you can quite easily break the fragile connections between the LCD screen and your phone's electronics. It's a good idea to carefully weigh up the costs you can save by attempting a glass-only replacement yourself compared to the chances of damaging your LCD screen and then needing to get more costly repairs done.
Contact us today to see how soon we can have your iPhone screen repaired to be as good as new!
Share