Posted by iCoverLover on Nov 27, 2020
In the world of technology, Samsung and Apple are rivals. They've always been trying to be one step ahead of the other most especially when it comes to handheld gadgets. That's why when the two companies announced their partnership, followers were stunned - it's the partnership we never knew we'd get to see.
Earlier this year at the Consumer's Electric Show, both major tech companies announced they are working with each other. With this partnership, Apple's iTunes will be available on all Samsung Smart TVs in the near future.
Exclusivity of Apple
Apple is well-known for being exclusive. Once you have an iPhone or an iPad, you can only access applications that are available for iOS. Or that you can buy any kind of Apple accessory and it will most likely work with another Apple gadget.
Basically, Apple has built an exclusive community - an ecosystem. This is perhaps why people are following Apple and has made it be one of the biggest tech companies in the world.
The news that Apple will be joining forces with Samsung was rather shocking but a pleasant surprise to their followers. Working with a rival company is one thing, but branching out their services might have been a bigger shock for some.
If the partnership takes place, those who own Samsung Smart TVs will be able to download and access iTunes as well as the TV shows and movies they have brought from Apple. In addition, users can also purchase some additional films and programs from the app. This will be available for users starting this spring.
But while Apple does have the air of exclusivity, they've already worked with other companies as well. Weeks before the deal with Samsung, Apple Music became available for Amazon Echo. They've also worked with Windows before and have opened up iTunes for Windows users back in 2003.
Samsung and Apple Rivalry
Both companies have long been trying to dominate the smartphone and tablet industry for a while now. Enthusiasts would be looking forward to every flagship devices they are launching - and it's noticeable how if one company launches a smartphone, the other will be quick to follow.
Even updates in systems are closer to each other - from face recognition systems to emojis with each company trying to find a unique way to make their offer better, yet it's something normal for different companies in any niche.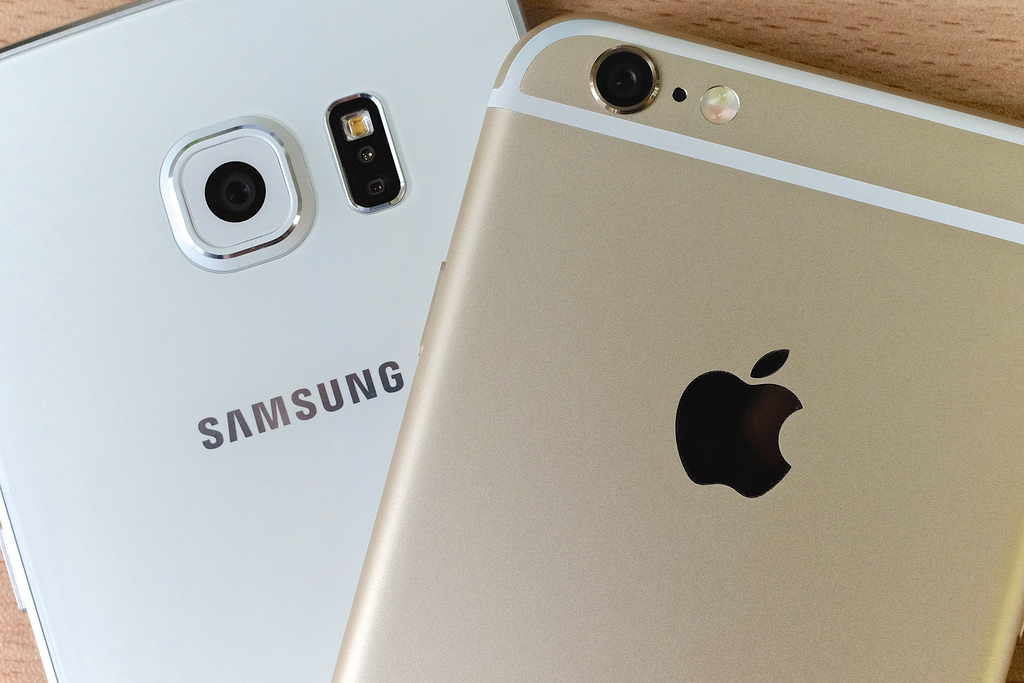 However, the rivalry between Samsung and Apple was beyond who's making the most money and the most followers. The two big shots were at war for around seven years in court when Apple accused its rival of copying the iPhone's patents. They demanded $2 billion from Samsung for the alleged infringement.
There had been several trials, and Apple was even rewarded with millions of dollars. The war ended when both companies settled and ended litigation in June of 2018.
Samsung as Source
Unbeknownst to some, Apple and Samsung were rather civil and in fact, had been in some sort of partnership even before the iTunes and Samsung Smart TV deal. Apple has long relied on Samsung for hardware and components. The screens in some of the iPhone offers came from Samsung.
However, Apple has tried to gain more independence perhaps to avoid any more patent infringement issues between them and Samsung. They have now tried to create their own screen and display technology which is now available in the latest iPads and iPhones.
Still, it's good to see both Apple and Samsung in a more open relationship with their partnership. The new deal may be Apple's way of saying they don't see Samsung as much as the enemy like they used to according to former marketing executive of Apple, Michael Gartenberg.
Is this Partnership Necessary?
To say the least, we have made peace that we can only access Apple software and hardware if we're iPhone or iPad users. That's also the same with Android and Samsung users. With that said, the partnership isn't really necessary in the way that we can't live without it.
However, it's definitely a welcome deal especially for the consumers. Being able to tap into an exclusive world is a plus point, and non-Apple users may find this a good way of advertising Apple gadgets.
For the two companies, working together could also up their sales. And this might be the smartest move for Apple's part as they have currently been struggling to sell their latest iPhone offers in big markets like India and China. They've also been struggling in other parts of Asia, and this has taken a huge hit on them considering they're getting a huge percentage of their sales from the area.
It also makes sense for Apple to consider working with the biggest company when it comes to smart TVs in the area of streaming. Amazon Prime and Netflix - the two biggest names on streaming - are already on the platform. Apple working with the leading company for smart TVs brings them to par with other streaming services.
What's the Future?
Can we see more from Apple and Samsung's partnership? For now, there aren't any more announcement from the companies. And it could take a while before another partnership deal happens between the two of them.
However, this spells a good future for the technology sector. Our options are getting more varied due to these partnerships, and even if you're not a part of the exclusive ecosystem of Apple, you're able to get a glimpse of what happens in their world.
And since two of the biggest names and rivals in the tech world has partnered together, it's no surprise if other companies follow their footsteps. It may evolve to merely sharing access to one app to total inclusivity that will benefit the companies themselves and their consumers.
Conclusion
We may not see much of the Apple and Samsung partnership beyond of what they have announced earlier this year, but it keeps the doors open for new opportunities and as tech enthusiasts, it's exciting to know what other deals we'll be seeing because of this.
Samsung Galaxy Note 9 Case Black Flower Textile Leather Wallet Cover with Kickstand and Card Slots
iPhone XR Case iCoverLover Black Genuine Cow Leather Wallet Folio Case, 3 Card Slots, 1 Cash Compartment
Share