Posted by iCoverLover on Nov 27, 2020
Wireless charging is a nifty technology that lets you charge your phone by placing it on top of a charging pad or stand. No more pesky wires that get tangled up and cables that fray into uselessness. With wireless charging, there's one less cable to add to the clutter in your desk or bag.
It would be nice if built-in wireless charging was a universal feature in smartphones. Unfortunately, this may still be years into the future. For now, wireless charging support is still mainly found in high-end phones.
If you're interested in wireless charging, ahead is a list of some of the best smartphones that offer the feature. We also have a list of the mobile phones that you can charge using a wireless charging adapter.
But first, what is wireless charging and how does it work?
What is wireless charging?
Wireless charging uses an electromagnetic field to charge your device over short distances without the need for cables. It lets you re-up your battery faster and easier.
With no cables, it's also neater and more convenient. There's no need to keep plugging and unplugging your charger, which makes it safer.
Wireless charging is typically available in premium smartphones with glass backs. While some phones have wireless charging built-in, some need a replacement case or rear cover so you can charge them wirelessly. If there are no special cases or covers for your device, you can buy a universal adapter that supports wireless charging.
The most popular standard for wireless charging is Qi, which is supported by all of the big smartphone manufacturers. Samsung has been releasing handheld devices that are Qi-compatible for many years. In the last couple of years, Apple has done the same with its latest iPhone models. In addition to making phones with built-in wireless charging, Samsung offers a wide range of wireless chargers that are compatible with any Qi-enabled phone.
Though wireless charging has many perks, it does also have a few drawbacks. For one thing, it takes longer to charge a device wirelessly than to use a traditional wired charger. Wireless charging also makes it difficult to use your device while charging.
It's also more expensive than wired charging. The only mobile devices that have wireless charging built-in are the latest and most high-end ones. If you want to charge an older device wirelessly, you'll have to spend money on a wireless charging adapter or accessory that will let you use the phone with a wireless charging pad.
iOS phones that support wireless charging
iPhone XS and iPhone XS MAX
The latest iPhones support Qi wireless charging but do not come with a wireless charger. In 2017, Apple unveiled the AirPower, its wireless charging pad. But the company has yet to make it available, so if you own one of the latest Qi-enabled iPhones, you'll have to buy a non-Apple wireless charger.
iPhone 8, iPhone 8 Plus, and iPhone X
These were the first iPhones to have wireless charging capabilities.
Android phones that support wireless charging
Samsung Galaxy S9 and Galaxy Note 9
The Samsung Galaxy flagship phones are arguably the most popular wireless charging-enabled smartphones today. Samsung's handsets have supported Qi wireless charging since the Samsung Galaxy S6, Galaxy S6 Edge, and Galaxy Note 5. Now, its mobile devices support both Qi and PMA wireless charging.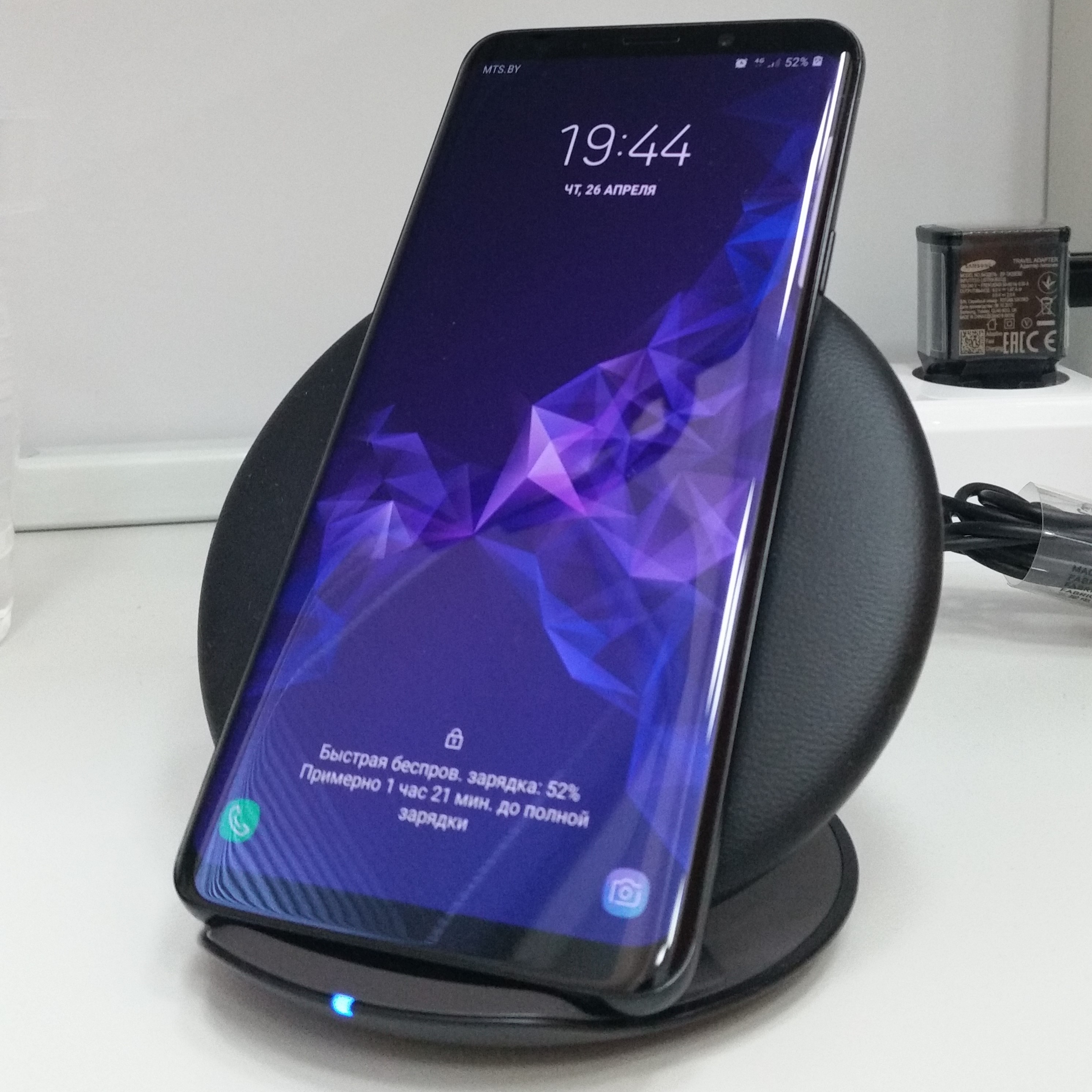 Aside from the Galaxy S9, S9+, and Note 9, Samsung's Galaxy S8, S8+, Note 8, S7, and S7 Edge also have wireless charging capabilities.
Google Pixel 3 and Pixel 3 XL
These are some of the best wireless charging-capable smartphones on the market today. These phones support fast wireless charging through the Pixel Stand. The stand lets the Pixel 3 automatically go into Do Not Disturb mode at night.
LG G7 and V40 ThinQ
All variants of LG's 2018 flagship phones are capable of wireless charging.
Sony Xperia XZ3
Sony's most impressive smartphone to date supports wireless charging. Sony has a wireless charging dock that lets you fast-charge its Xperia handsets in either a horizontal or a vertical position. The versatile dock lets you watch videos as you charge and has an output of up to 9W. It has heat control and lights that tell you when your phone is in the best position for optimal charging.
Huawei Mate 20 and Mate 20 Pro
Both of these handsets support 15W wireless charging, but the Mate 20 Pro takes it a step further. You can wirelessly charge any Qi-compatible mobile device by placing it on the back of the Mate 20 Pro.
Motorola Moto Z3 Play (with Moto Mod)
The Moto Z3 Play doesn't have built-in wireless charging. You have to attach the magnetic Moto Mod to the back of the phone if you want to charge it wirelessly.
These other Android phones also have wireless charging support:
LG V30
LG G6
LG G4
LG G3
Nokia 8 Sirocco
Google Nexus 4
Google Nexus 5
Google Nexus 6
Google Nexus 7
Microsoft Lumia 1520
Microsoft Lumia 1020
Microsoft Lumia 930
Microsoft Lumia 929
Microsoft Lumia 928
Microsoft Lumia 920
Blackberry Priv
Phones that need wireless charging accessories and adapters
These phones don't have built-in wireless charging but can be charged using a wireless charging pad.
iPhone 7
iPhone 7 Plus
iPhone 6s
iPhone 6s Plus
iPhone 5s
iPhone SE
Samsung Galaxy S5
Samsung Galaxy S4
Samsung Galaxy S3
Samsung Galaxy Note 3
Samsung Galaxy Note 2
Microsoft Lumia 925
Microsoft Lumia 830
Wireless chargers
Once you have determined that your phone has built-in wireless charging support or can be wirelessly charged with the help of an adapter or accessory, you will need to buy a wireless charging pad. These come in a wide assortment of shapes, styles, sizes, and colors. There are Qi wireless chargers for your desk and your car. There are also portable Qi-enabled battery packs.
And there you have it. These are currently some of the best mobile phones with wireless charging support. There are also great options that don't have built-in wireless charging but can be charged wirelessly with the right accessories.
Wireless Charger for iPhone XS & X, XS MAX, XR, iPhone 8/8+, Samsung Galaxy S9,S9+,S8,S8+, Note 9/8
Wireless Charger for iPhone XS & X, XS MAX, XR, iPhone 8/8+, Samsung Galaxy S9,S9+,S8,S8+, Note 9/8
Wooden Texture Fast Wireless Charger iPhone XS & X, XS MAX, XR, iPhone 8/8+, Samsung Galaxy S9,S9+,S8,S8+, Note 9/8
Share