Posted by iCoverLover on Nov 13, 2017
With great gadget, comes with greater responsibility. Especially if the gadget you possess is one of the latest, thus expensive smartphone. Yes, we are referring to Apple's latest iPhone, the iPhone X. We all know that iPhone X is a breakthrough for Apple, not only because of its newest features and innovations, it is also an evolution of a smartphone's look and appearance.
One notable feature of iPhone X is having a glass back, instead of the traditional aluminium, thus making it more fragile and costly when certain unfortunate occasions occur such as accidentally dropping it.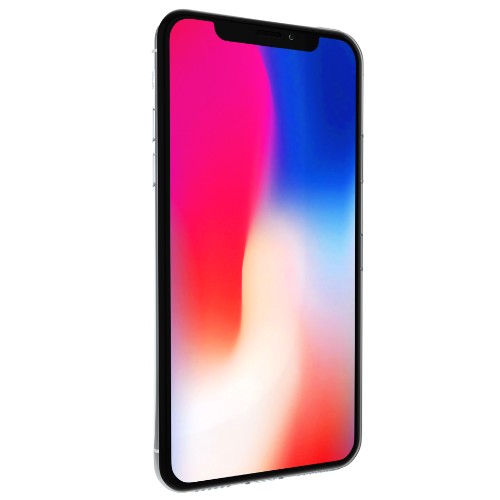 But fear not, iPhone X fans and users, because here in iCoverLover, we offer some of the best genuine leather phone cases for your iPhone X that will not only ensure your smartphones safety and protection but will also add style to your newest prized possession.
Here are the products that will help you choose that will suit your needs.
Real Top-grade Cow Leather Wallet Case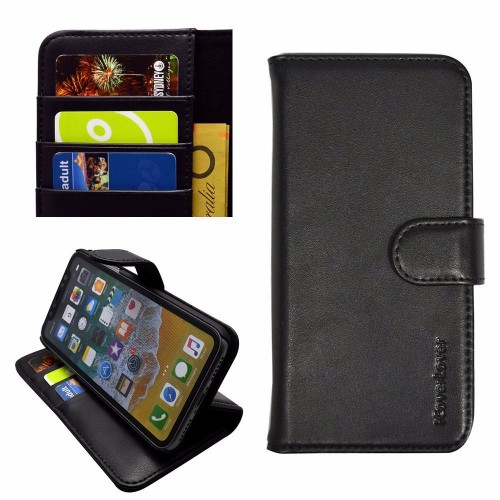 If you are looking for something classy yet elegant, this leather case is best for you. It is made of genuine leather material and it is multi-functional. This exquisitely hand-made top-grain leather wallet cover is the one that offers a simple yet great look. It incorporates a stylish design and also functions as a wallet with pockets for ID's, cards and cash and with added security for it closes with a magnetic flap.
It has specifically three different card slots where you can use it to hold your most used cards such as Credit Cards, ID's and even your driver's license. It has also a built-in holder that will provide multimedia viewing convenience at different angles.
This high-quality, genuine and premium leather case comes in two colours: black and reddish brown.
Fierre Shann Ring Holder Genuine Leather Case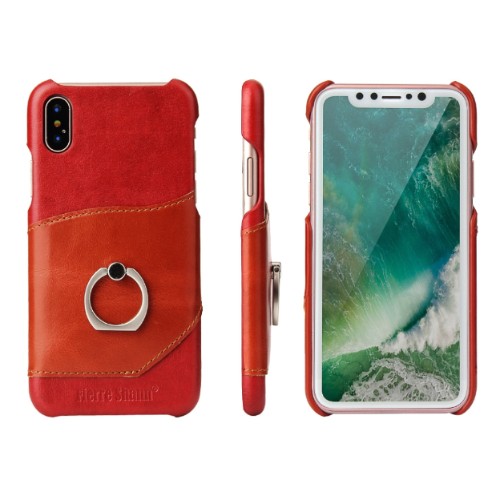 Fierre Shann Ring Holder case is another leather case that is also a viable option to house your iPhone X. Its material is still made of genuine leather and just like the real top-grain, it is also a wallet type case.
The difference between the two leather cases is that this one offers and modern yet timeless look. It is a sophisticated crafted case for iPhone X that is expertly hand-made. Its design is inspired by previously mentioned cow leather wallet case. It is designed to be fashionable and compact with a soft tactile feel.
Aside from the featured and convenient handy storage compartments for cards, it is also added with a ring holder for added grip to the device and will be used as a stand-up holder for the device for convenient multimedia usage of your iPhone X.
To top it off, its details are completed with a top-notch classic, genuine leather oil wax in a patterned look. And you can choose from three different colours: brown, black and red. This awesome case is priced for $49.95.
Fierre Shann Genuine Leather Flip Case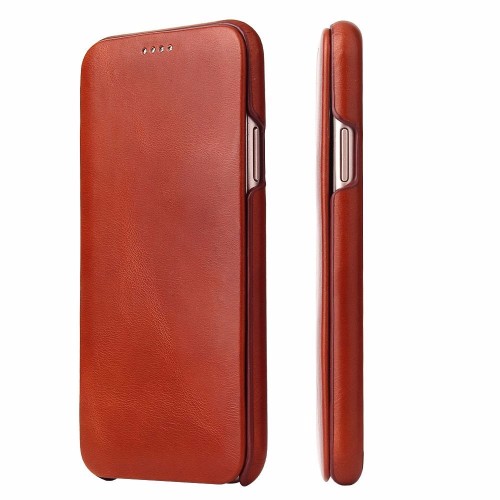 Here is yet another fashionable and classy leather case. This Fierre Shann Leather Case is still made of genuine leather material and it is a flip type leather case.
This iPhone cover is hand-crafted and perfected from high-quality, genuine premium cowhide leather that covers the tough polycarbonate shell of the case that is helpful for protection and security. The case is designed to emphasize a minimalistic and pure look and style that fits the features of iPhone X.
Since it is made with leather, it has a natural shock absorbing qualities plus its tough polycarbonate body will surely protect your iPhone X from the toughest falls, mishaps and other unfortunate events that will put your iPhone X in harm's way.
Purchasing this leather flip case is really a good decision to help you protect your iPhone X. Standard free delivery is applied to any point in Australia. You can also have a free screen protector and a splash-resistant bag that will also add protection to your smartphone. It comes in three colours: Brown, Red and Black.
Fierre Shann Copper Coin Leather Wallet Case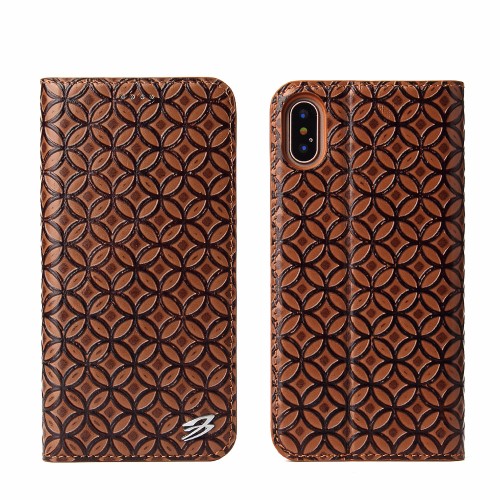 Fierre Shann Copper Coin Leather Wallet Case is another one of iCoverLover's high-quality product. This wallet type leather case is made of genuine leather material.
This prestigious leather wallet case is an example of mastery in this craft. It is perfected down to the last detail. It is a durable genuine leather case comes with a stand-up holder that will be handy and a slot that will store your credit card for easy usage.
To achieve the best product possible, this leather case is crafted out from the highest and best quality cow leather. It is an elegant design that closes with integrated magnets and it is scratch resistant. Thus, making it fashionable without compromising its quality and durability.
This leather wallet case costs $49.95 and it comes with a free screen protector and a splash-resistant bag that will add more protection to your smartphone. Talk about strength and beauty.
Aside from the aforementioned leather cases, there are other cases that are available at iCoverLover that is really useful and ensures safety and protection to your smartphones. No one wants to have newly-bought iPhone X or any other smartphones with scratches and dents. Remember, prevention is better than repair.
Share