Posted by iCoverLover on Nov 27, 2020
At iCoverLover, we have tons of different phone cases for you to choose from. Hundreds of patterns, dozens of colours, and different finishes and textures. There's something to suit every taste.
But there's nothing quite like a fully personalised phone case!
As part of our quest to offer you the most beautiful, durable, and perfect-for-you phone cases and accessories, we have launched our phone case designing tool.
With this Design Your Own feature, you can use your own images and choose your own colours and text to create an entirely unique phone case. Currently, this tool can be used to customise phone cases for most iPhone models and Samsung, LG, Google, and Huawei phones. It can also be used to make your very own Apple Watch straps.
Sounds exciting? We invite you to try it.
But first, here's a quick guide to using the Design Your Own tool.
How to design your own phone case:
1. Choose your unit and phone case type.
Before you start personalizing your phone case, you have to decide what type of material you want. You can choose a folio case, a flexi case, or a snap case. For the snap case, you can pick either a glossy or a matte finish.
At the first screen, select your phone model and then select the phone case type.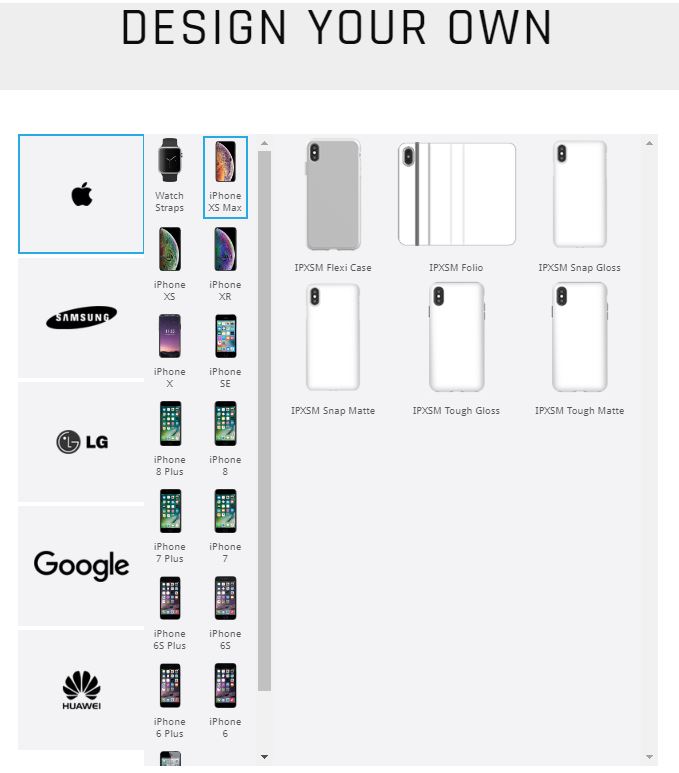 2. Choose the base colour.
Choose a colour for your phone case, default is white. You can cover this up with a pattern later or use it as background for text or images.
3. Add text.
You can add up to three lines of text to the back of the phone case. Use the three lines to display your favourite quote or to show your name and contact details (good to have in case your device gets lost).
After typing in the text, you can select a font and a colour. Each line of text can be a different colour and font.
You can also play around with the size and orientation of the text. Use the "Scale" slider on the right of the screen to make the text bigger or smaller. Make sure that each line fits across the back of the phone case.
You can also rotate the text. Make it run diagonally or vertically across the case if that's what you want.
Use the pointer to move the text boxes and the "Centre" button to re-alignthem. Use "Flip View" to switch the case from horizontal position to vertical position, and back.
4. Add an image — or five.
You can add up to five different images to customize the case. Upload the images from your computer or choose from the Design Your Own gallery. There are dozens of gorgeous patterns and photos to pick from.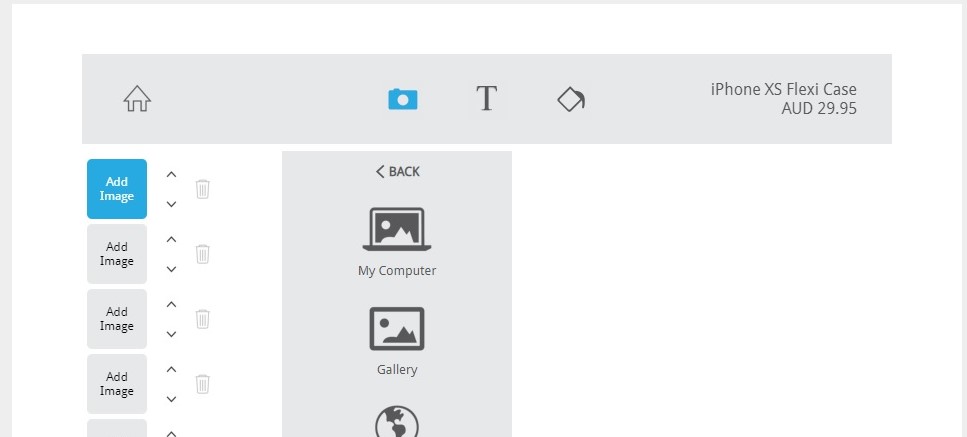 You can also get your images online. The tool will give you the option to grab photos from your Facebook, Google +, Instagram, or Flickr accounts. You can also upload an image by scanning the QR code provided.
You can then layer and arrange the images you chose using the "Rotate" and "Scale" sliders on the right of the screen.
When you're done designing your phone case or watch strap, click "Proceed" and then "Add to cart."
And that's it! A fully customized phone case that reflects your personality, made with minimal effort and delivered right to your doorstep. We hope you have fun using the tool!
Compatible phone cases and accessories
Design Your Own lets you customise phone cases and accessories for these devices:
iPhone XS Max, XS, XR, X, SE, 8 Plus, 8, 7 Plus, 7, 6S Plus, 6S, 6 Plus, 6, 5/5s
Samsung Galaxy S10e, S10 Plus, S10, S9 Plus, S9, S8 Plus, S8, S7 Edge, S7, S6 Edge Plus, S6 Edge, S6, S5, Note 9, Note 8, Note 5; J5 (2017), A8
LG V30, G7, G6
Google Pixel 2 XL, Pixel 2, Pixel XL, Pixel
Huawei P10, P10 Plus, P9, P9 Lite
Apple Watch 38mm, 42mm
Share