Posted by iCoverLover on Nov 27, 2020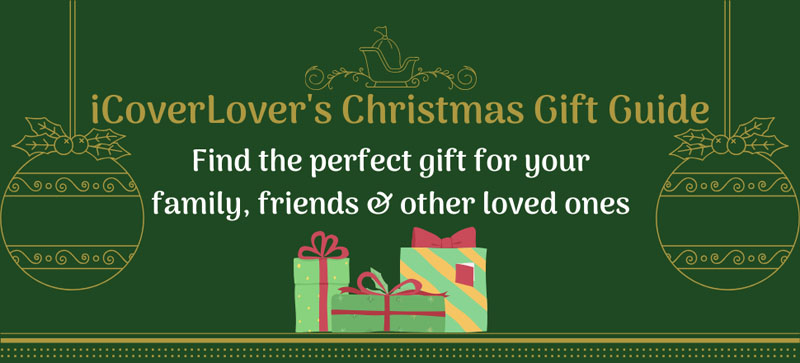 When it comes to ultimate gifts of the year, we've got you covered!
It's official! Christmas hunt for most thoughtful, useful and beautiful presents has begun. Festive time is getting closer and we are almost running out of ideas what to get for Christmas. Luckily, we still have some aces up our sleeve. For us giving gifts is one of the simplest, yet meaningful, ways to say thank you. Although this can be a stressful time, don't worry because we have a gift for all your loved ones, no matter the budget. Choose your favourite and our Santa's Little Helpers will do the rest!
Below we picked out some gift ideas for every member of your family, your friends or your special someone.
For Her
Protective Cover for Wireless Earphones Charging Box, Apple AirPods 1/2, in Black Marble Pattern or in White Marble Pattern.
Uniquely designed pink QI Wireless Charger iPhone 11,11 Pro, 11 Pro Max, Samsung Galaxy S10, S10+, Note 10/10+.
Bonjour Paris Transparent Samsung Galaxy Note 8 Back Case.
For Him
Fast wooden wireless charger for iPhone 11,11 Pro, 11 Pro Max, Samsung Galaxy S10, S10+, S10e S9, S9+ Note 10/10+.
Genuine Leather Protective Wireless Earphones Black Box with a Hook for Apple AirPods 1/2.
7 in 1 Professional iPhone, iPad & iPad Mini Opening Tools Kit.
| | | |
| --- | --- | --- |
| | | |
For Your Mom
Flexible Octopus Tripod for iPhone 6 & 6 Plus / iPhone 5 & 5S / 5.5-8.0cm Width Mobile Phone for taking family pictures
iPhone 11, 11 Pro or 11 Pro Max Tempered Glass Camera Lens Protector, 2-pack
Enchanting Samsung Galaxy Note 10+ Case Rose Gold Embossed Butterflies Pattern PU Leather Folio Cover with Card & Cash Slots
For Your Dad
Safe and modern Brown Birch Wooden Charger Holder for Apple Pencil.
Yellow Universal Multifunctional Flexible Long Arm Phone Holder Stand Tablet Mount to hold you're phone while driving.
Ultra-Slim and Flexible Samsung Galaxy S10 Case Black Carbon Fiber Texture TPU Protective Back Shell.
For Kids
Adorable sun-printed Qi wireless charger for iPhone 11,11 Pro, 11 Pro Max, Samsung Galaxy S10, S10+, Note 10/10+.
Cute sleeping koalas iPhone XS Max Case Embellished Soft TPU Protective Case with Enhanced Grip and Scratch-Resistance.
Adorable Panda Leather Wallet Samsung Galaxy Note 8 Case.
For Your Grandmother
Stylus Smartphone & Tablet Pen 2 Pack for the ultimate control, comfort and accuracy when using iPad or iPhone.
Black Silicone iPhone Card Holder can stick to your smartphone and phone cases.
Jeans inspired styled Blue Peony Leather Wallet for iPad 2, 3 & 4.
For Your Grandfather
Retro Camera Tripod - iPhone is perfect to take family pictures.
Uniquely designed brown QI Wireless Charger for iPhone 11,11 Pro, 11 Pro Max, Samsung Galaxy S10, S10+, Note 10/10+.
iPhone XR Case iCoverLover Black Genuine Cow Leather Wallet Folio Case with 3 Card Slots and 1 Cash Compartment.
For Animal Lovers
Elephant Pattern Leather Wallet iPhone 6 & 6S Case with built-in credit card holder.
Amazing Leopard Patterned Drawing iPhone XS Max Leather Wallet Case with Card Slots, Lanyard, & Kickstand.
Adorable French Bulldog Leather Wallet for iPad 2017, 2018.
For Foodies
Delicious Cherry Samsung Galaxy Note 10+ Plus Note 10 Note 9 Note 8 & Note 5 Protective Case.
iPhone XR Case with Doughnut Pattern TPU Protective Back Cover with Scratch-Resistant, Enhanced Grip & Impact-proof.
Sweet iPhone 11 Pro Max, 11 Pro, 11, XS Max, XS/X, XR, 8/7/6 Plus, SE/5S/5 Case with creamy Cupcakes.
For Sports Lovers
High quality Blue Bicycle iPhone 7 & 7 Plus / 6 & 6S / iPhone 6 PLUS & 6S PLUS Bag made of high quality material suitable for different weather condition.
Stylish and ultra-light Black Sports iPhone 8 & 7, 6, 6S Armband.
Comfortable, stylish and waterproof Magenta Outdoor 6-inch Phone Waist Bag.
DESIGN YOUR OWN!
If none of the above doesn't suit you, we have a solution! Design your own case, wireless charger and more. With this simple gift, people will know that you really care for them and know their wishes.
Share